Reign Marie execution
Forum Home
>
Public : General
> Reign Marie execution
1
2
Is it possible to have the pics on the main page?
I love how she portrays herself so feminine and elegant and love her big satin dress, dressed ladylike to lose her head. I loved it
The beheading itself is not the best, but what a neck and what a hot dress.
Pics
You need to be
logged in
to view attachments.
Damn, Jean, that's a really hot picture. Any more where that came from?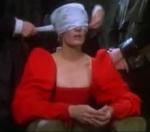 They never showed the actual head coming off for Lola.
Forum
>
Public / General
>
Reign Marie execution
Powered by Chloris [experimental m.b.]